https://www.chirpbooks.com/audiobooks/you-had-me-at-wolf-by-terry-spear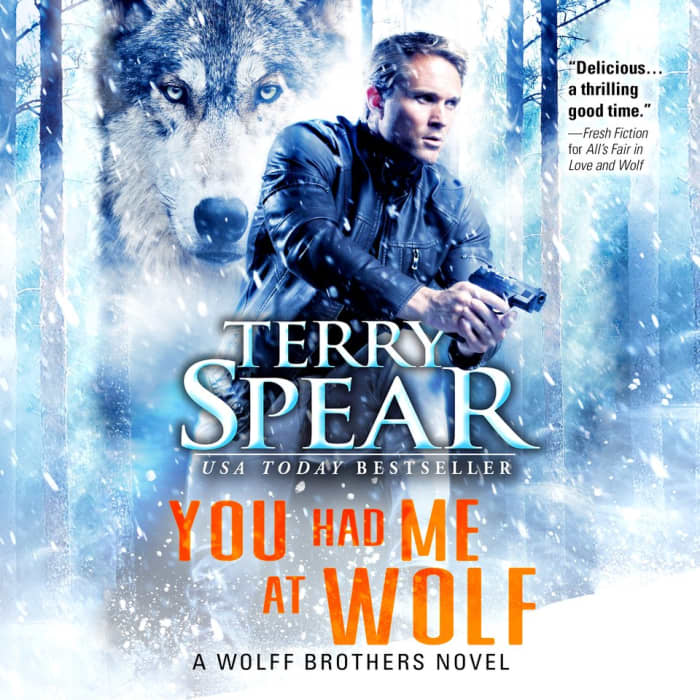 List price: $24.99 Save 88% Our price: $2.99
14 days left to claim deal
https://www.chirpbooks.com/purchases/new?product_id=272016
A thrilling romance from a USA Today bestselling author: The sexy and powerful Wolff brothers are finally settling into their new ski lodge when PI Josie Grayson arrives, hot on the trail of a dangerous criminal. Can shifter Blake Wolff convince her to let him help her — and prove that he's her perfect mate?
PUBLISHER DESCRIPTION
The hot, powerful Wolff brothers have moved to the outskirts of Silver Town and opened a ski lodge. They've always wanted to live in a wolf-controlled area, and now they have their chance. They're settling in for a quiet winter when their lives suddenly become way more exciting than they'd ever planned.
Private Investigator and Gray-wolf shifter Josie Grayson is hot on the trail of a dangerous criminal hiding out at the ski lodge when her partner takes ill and must leave her to pursue the mission alone. Blake Wolff steps in—he can't resist the allure of this brilliant and focused she-wolf whose presence awakens a long-dormant yearning in his heart.
As pursuit of their quarry heats up, Blake has a mission of his own—to convince Josie that there's more to life than work—and that she's his perfect mate.
Okay, I think I missed posting yesterday. I'm confused on my days because I'm not taking care of my granddaughter 2 days a week since I work at home every day. It's like one day melts into another. So I went to put out the garbage yesterday, but no one had the garbage out. Whoops. It was still just Wednesday. But today, I have to get it out.
I'm taking care of my granddaughter tomorrow because her parents are both working and she is clingy. My daughter is in charge of all the food distribution for the schools in the district and it's been a real job, especially since they're doing evening meals also and stressful. So Grandma needs to help out.
Anyway, so little one will be here with me all day. I still need to write.
Okay, I'm off to work. I need 4,000 more to be half way through minimum word count. That's 40K.
Have a good day, as good as you can have in these trying situations. I am NOT going to look at the news today. Not until tonight. Let's see how long that lasts. But I need to write and the news is so bad it's making it difficult for me to concentrate on what I need to do.
Stay safe!!!
Terry
"Giving new meaning to the term alpha male where fantasy is reality."
Connect with Terry Spear:
Website: http://www.terryspear.com
Goodreads: https://www.goodreads.com/author/show/421434.Terry_Spear
Facebook: https://www.facebook.com/TerrySpearParanormalRomantics
Twitter: https://twitter.com/TerrySpear
Wilde & Woolly Bears: http://www.celticbears.com
Newsletter Sign Up: http://eepurl.com/u63qP