Amazon
And ON SALE!!!!

ON SALE at 62% off the Ebook Cover Price!!!
Only $2.99!!!
A FIERCE HUNTER…
Alicia Greiston is a no-nonsense bounty hunter determined to bring a ring of mobsters to justice. Her dogged pursuit of the crime family has forced her to avoid relationships— any man would only become a target for retribution. Luckily, Jake Silver is more than a man, and his instincts are telling him to stop at nothing to protect her.
AN ANIMAL PASSION…
However, the mob isn't entirely human either, and soon Alicia must flee for her life. When Alicia and Jake's passion begins to spill over into their dreams, Jake learns he will have to do more than defend her— he'll have to show his mate the way of the wolf.
New Cover for The Tall Texas Order:
Before the transformation: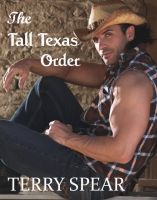 Lisa has lived all over the States, but when she starts working in Amarillo, Texas, she's ready to settle down with the man of her dreams–if she can prove to herself she has the mettle to become a Texan.
From camping in the Palo Duro Canyon with rattlesnakes and scorpions and wild mustangs, riding the trail on a cantankerous trail horse,line dancing, and watching a friend devour a 72-oz steak, Lisa's having the fun of her life…mostly.But can she learn to be a Texan? Inspired by several true incidents, the story revolves around a woman who's never settled down for long and a man who wants her to love his home as much as he does…fearing she's bound to leave him sooner or later as she has never been able to set down roots.
Only 99 cents!!!
ARe Books
New Cover for Vampiric Calling:
Before the transformation:
A vampire targets a huntress for his own, and she's torn between wanting him and knowing she should terminate him. But in the dark of night, who will win the battle?
Samantha Ramsay's always been different, a huntress born with the gene that makes her kind take up the sword to terminate rogue vampires, yet something isn't right. They've never targeted her before tonight, and now she realizes she can't kill the sexiest vampire she's ever encountered, who claims her for his own.
Ralston Vaccarra has waited all the huntress's life to have her and no one, vampires or hunters alike, will have the woman he claimed for his own the day she was born, only will a huntress be able to accept him and his kind for what they are?
$1.99!
Ebook:
New Cover for Hearts Undercover:
Before the transformation:
Melissa Winston is trying to stay alive until the police can prove her ex-fiance murdered his own wife. But when Robotics Cop Number 6 arrives on her doorstep to offer protection, nothing feels right. What if HE is the assassin out to get her this time?
Only 99 cents!!!
New cover for The Genie's Wish:
Before the transformation: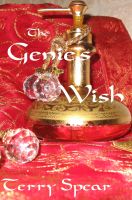 Lizzie Mason just wanted to buy a birthday present for her older brother who loves antiques. What she doesn't expect is to end up in a world far from her own with a mission to save a man's life before it's too late.
Genies are only fairy tales. At least that's what Lizzie Mason thinks until she manages to summon one from an antique vase. Now she's in real trouble as she vows to save the man imprisoned in the bottle from a fate worse than death and ends up in his world, hoping to change fate without getting herself killed.
The genie must right the wrongs of the past before the curse placed on him can be broken. But will the woman who has freed him be able to manage in a world where deceit and death await them?
Only 99 cents!!!
I've been reworking some of my book covers and have a new website coming up… so wanted to get these changed also before they're included. So what do you think? Better?
Hope you have a wonderful hump day and if you have Jaguar Fever in your hot little hands, I hope he's making your day!
Terry
"Giving new meaning to the term alpha male where fantasy IS reality."
www.terryspear.com